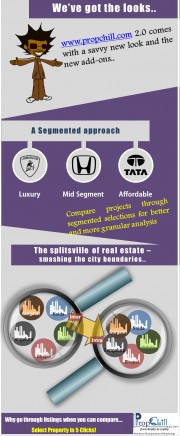 Propchill launches its new feature of Multi City Comparison of Property in India. Read about it and the road ahead in this release.
Gurgaon, India, June 23, 2015 (Newswire.com) - A web portal on Real Estate in India by the name of PropChill has engaged users with some interesting analysis. The Startup is being steered by an Ex-Indian Army officer Colonel Sameer Kanwar and his wife Monica, caught up with them in Gurgaon and here are a few excerpts from the interaction.
On the onset, Monica said that their experience in the Armed Forces has gone a long way in steering the startup. Self-belief, confidence to handle any situation come what way and the never die spirit are few facets which one picks up while in the Army. She further adds that any startup is about an emotional connect and mentoring a team, not only professionally but socially as well as on the personality front (grooming). The last 2 years have been challenging and a very satisfying period.
PropChill is By an investor and For an investor

Tanya, Ms
On querying whether age makes one apprehensive of a startup, as both are forty plus... Sameer said that on the contrary he believes that entrepreneurship is all a state of mind and has nothing to do with age. In fact, professional experience, maturity and emotional stability are essential aspects for anybody foraying into a startup, which come with age and time. It's not always about the 'maverick attitude' which is generally associated with startups.
On the question of motivation behind starting PropChill, Monica opined that before her husband left the Army, they were on the look out of a house/ dwelling to settle down. All charged up and exited they started their search on the internet and through friends circle. To their surprise, though unmanageable quantum of information was available on the net and other sources, there did not exist a single platform (or resource) which could provide some analysis, comparisons or conclusive suggestions. That's where the idea of 'Propchill.com' germinated (though the name came much later). Monica simply asks, "when we can compare cars, electronics, laptops etc. on the internet then why not property? Propchill is an answer to that".
Sameer highlighted that there existed a huge trust deficit between the investor and the developers, and their aim was to bridge this gap. He added that a major part of this gap can be covered through digital tools, like what Propchill is all about, however the developers need to realign and walk the extra yard to create an environment of faith and ­­­­consumer satisfaction .
Elaborating on the technology behind PropChill, Sameer highlighted that a user can compare property/projects across five independent verticals. All projects/property have been rated through an unbiased indexing mechanism across these verticals using complex proprietary algorithms. Further, a user can also follow the segmented approach of luxury, mid segment and affordable dwellings to shortlist property. There are tools available for generating custom comparisons and indexes. Just about a fortnight back a unique feature which allows a user to compare property across cities has been introduced. He says "We are looking at empowering the investor in every possible manner, to generate authentic usable intelligence for him/her and to enhance the decision making cycle".
Describing the road ahead, Sameer elaborated that they we are now working on the liveability index for various cities and were soon going to launch the feature where the user would be able to analyse a city's liveability index through independent verticals and graphs.
On the issue of investment and venture capitalists, Sameer said that "Yes we are looking forward to investments, but are willing to wait, as investments would bring in the revenue model and the commercial angle and would entail a shift in focus, as of now we solely want to concentrate on the product delivery which connects with the masses". " It gives more satisfaction and provides the adrenalin burst to keep rolling out more features".
When asked to sum up the project in a one liner Sameer said, PropChill is 'by An investor and for An investor'.
Share: